Nominations are now closed!
Mae govannen!
Today is the day! The day you have been waiting for! Today, the Silmaril Awards return!
Here on my blog, I have the privilege of opening up the nominations for the LEAST COMPETENT HENCHMAN!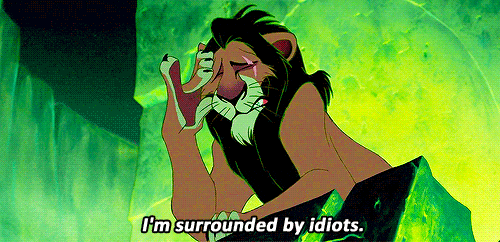 This Silmaril should be awarded to a henchman who just can't quite get it right. No matter how hard he (or she) tries, this character never really furthers the villain's plans. This is the Silmaril for the earnest, hardworking henchman, the one oft-berated for being a fool… but really, on such minimal wages and with such limited information on the job posting, what is a villain to expect? At least this henchman will stick around… not like those "extra" henchmen, who flee at the first sign of a hero!
Nominate your favorite character(s) for this award by leaving a comment on this post!
A few quick rules and reminders as you get ready to nominate a character:
1. Just a quick reminder that Tolkien's characters are not eligible to win these awards. We creators of the Silmarillion Awards see them as the ultimate standards for these categories already, which is why they are the Presenters of the Silmarils.
2. These awards are for FANTASY characters! This means no science fiction. However, if you can make a good, solid argument for the fantastical elements in a particular science-fantasy, then by all means, go ahead! (For example: The Lunar Chronicles are admissible due to elements of magic and the fact that at their core they are fairy tale retellings)
3. Please mention what book the character is from in your nomination. While the hosts of the Silmaril Awards are wizards in their own right and voracious book dragons of speculative fiction, we haven't all read EVERY book out there, and we might not recognize certain characters.
4. You are welcome to nominate as many characters as you wish and "second" as many characters as you wish. The top 5 MOST seconded characters will go on to the final voting round.
5. If you are an author, you are welcome to participate, but please refrain from nominating your OWN characters. You may, of course, direct your fans to this event, though.
6. Characters who have won in a particular category in a previous year are ineligible to be nominated for the same award again. The Silmarils are Lifetime Awards. For a list of the previous winners in each category, please check out our Hall of Fame.
7. Please remember that these are Fantasy Book Awards. Therefore, a movie character is only eligible for nomination if they were a book first! For example, even though Kronk is the absolute standard for this particular award… he is ineligible. Not that it prevented him from crashing the awards ceremony last year…
8. Most importantly… have fun! And don't forget to visit the other 9 blogs and nominate characters for ALL TEN awards!
Please spread the word far and wide! If you are on social media, our official hashtags are #SilmAwards2018 or just #SilmAwards invite your friends to the party, the more, the merrier!
Let the nominations commence!
Just as a quick edit, because I belatedly realized that I should have included this… Last Year's Winner of this Silmaril was MR. SMEE from Peter Pan! Thus, he is ineligible to be nominated this year. I apologize for any confusion I caused by not mentioning him earlier. Mr. Smee is a fabulous henchman, loyal and well-intentioned. We hosts of these awards hope he is enjoying his Silmaril and hasn't lost it to the Crocodile… or had it stolen from him by his captain….